At Hawk Heating & Air Conditioning, we offer quality AC repair in Wilton, CA. A number of problems could cause your air conditioner to malfunction. When this happens during the warmer months, you could have trouble staying comfortable and relaxing indoors. Any pets or plants in your household could get negatively impacted as well. Instead of dealing with this heat on your own, you can reach out for help. AC service can potentially fix the issue rather quickly. Sometimes, the situation requires a simple replacement of a part, while other times, the repair may involve a little more work. Either way, you'll soon find relief from the heat.

AC Service in Wilton
Here in Wilton, we typically have long stretches of warm and dry weather. When your air conditioner can easily keep up with your demands, you can enjoy having a break from the outside temperatures. Unfortunately, an issue could arise with your cooling system. A major situation would involve your air conditioner not turning on at all. Obviously, this gives you plenty of motivation to call for professional assistance. A variety of issues could cause this issue, including a blocked condenser, dirty evaporator, or clogged air filter. Alternatively, a faulty thermostat or tripped circuit breaker might've caused the system to shut down.
Often, more subtle signs can indicate that your cooling system needs some attention.

Uneven cooling
Unit cycles on and off frequently
Warm air coming through vents

Water leaks
Unpleasant odors coming from vents
If your AC unit sends out some cool air but your house still feels hot, your system may require more energy than usual. This could lead your utility bills to increase sharply.
Checking the various components by running different tests can shed some light on the situation. To resolve the problem, you may need to replace one or two components, or perhaps various parts may need to get cleaned. Over time, dust and debris can build up in certain areas, and this can lead to many kinds of negative scenarios. Fortunately, technicians have the tools necessary to resolve everything.
Providing Help With AC Repair
Hawk Heating & Air Conditioning can jump into action on your behalf whenever you find yourself dealing with a faulty air conditioner. Our owner has about 20 years of experience in the industry, and he leads a knowledgeable, skilled, and motivated team. As a family-owned and -operated business, we've enjoyed serving our local community. We aim to provide a high level of customer service at all times, and we conduct ourselves professionally. Whenever you have a question, feel free to bring it up. Our friendly staff members can offer insights and provide clarification about anything related to your air conditioning system. We even offer discounts for senior citizens as well as law, fire, and military personnel.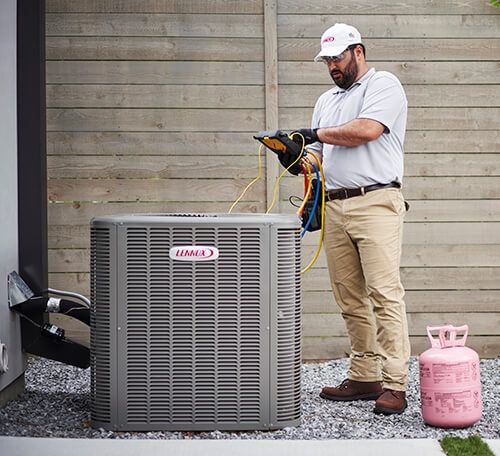 Call us today at Hawk Heating & Air Conditioning if you need an AC repair service in Wilton.