If you are interested in getting a smart thermostat in Galt, CA, then contact the team at Hawk Heating & Air Conditioning ASAP. We can provide you with a wifi thermostat to give you complete home comfort control. We will install it and help you go over its numerous features so you understand how to control your home temp properly.

You'll have cutting-edge heating and cooling that you can control via your smartphone or other smart devices wherever you are. You can even change the temp when you're away from home, so if you have a preferred temp, it'll be there by the time you return. So if this sounds like an excellent addition to your home, then contact us today.
Your Smart Thermostat Team in Galt
The difference between a manual thermostat and a smart thermostat is the latter works through your home's wifi and allows you a greater range of control. You'll be able to adjust your temperature how you see fit through your smartphone and other devices. A major benefit is setting up a heating and cooling schedule that your thermostat will follow. This means whatever time and temp you set, it will change over automatically. You won't have to micromanage your temperature again, as it will take care of everything. With it running on a precise schedule, it will never forget or run for too long, so you'll be able to save on your energy.
If your manual thermostat isn't functioning properly, or you're just interested in an upgrade, then look below at some of the benefits you'll gain:

It switches to your desired temp automatically
You don't have to micromanage the temp

Provides you with more savings than a manual thermostat
Programmed to learn your home temperature routine
Local Wifi Thermostat Professionals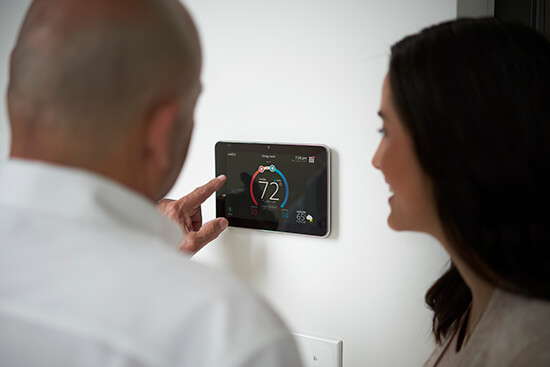 Hawk Heating & Air Conditioning is ready to help the residents of Galt with their home comfort issues at any time. We always arrive on time with the tools and expertise to do the best job possible. We will never cut corners and will get your wifi thermostat running in no time. We will also help you learn the ins and outs of properly operating it, so you don't run into any issues after we leave. You can control your heating and cooling without any confusion or concerns. We aim to make everything as easy for you as possible, and we'll help you out however we can.

If you live in Galt and are looking for a smart thermostat, then contact Hawk Heating & Air Conditioning today. We also offer smart thermostats in
Elk Grove
,
Herald
,
Lodi
,
Sacramento
, and the surrounding areas.