If you have looking to get a smart thermostat installation in Elk Grove, CA, then you should contact the team at Hawk Heating & Air Conditioning right away. Our team of experienced professionals can provide you with a new smart home thermostat that will give you precise control over home temp at all times. We'll install and show you how to operate it so you can have the best heating and cooling without any confusion.

You'll be able to operate your thermostat through a smartphone and other devices no matter where you're located. So if you are interested in having your home cooled or warmed to a specific temp before you get home, you can. If this sounds like a good addition to your household, then contact us today so we can get started.
Smart Thermostat Installation You Can Trust in Elk Grove
The main advantage of a smart thermostat over a manual thermostat is that you can control it manually and from your smartphone. Through this, you can set up a precise heating and cooling schedule, which your thermostat will automatically switch to, allowing you to sit back and relax. This means you don't have to micromanage your temp ever again, just set it up and it will do the rest. You don't have to worry about turning on or off the heat or AC before bed or adjusting it when you leave the house. Since it will switch over automatically, it will never run longer than you intended, meaning you will also save on energy costs.
If your manual thermostat is no longer working right, and it's time for an upgrade, then here are a few advantages you'll gain:

It will automatically switch to your desired temp
You don't have to micromanage the temp ever again

The precise temp schedule will save you money
It can learn your home temperature routine
Local Smart Home Thermostat Experts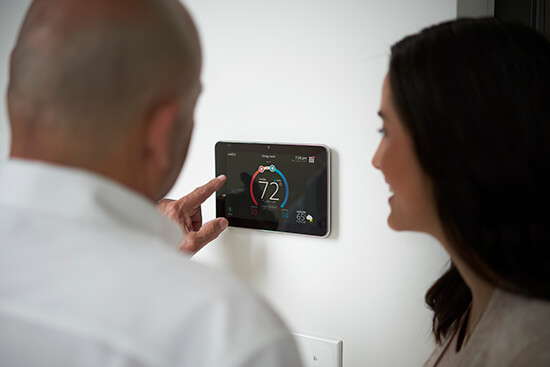 Hawk Heating & Air Conditioning is proud to help the residents of Elk Grove with their home comfort needs. We always arrive at our appointments on time with the tools we need to do the best job possible. We'll set up your smart home thermostat and help you understand every facet of it. We'll make sure everything works so you can have the heating and cooling of your dreams. We strive to give you peace of mind by always going above and beyond. We are the home comfort team you can always turn to.
If you are an Elk Grove resident looking to get a smart thermostat installation, contact Hawk Heating & Air Conditioning today.