If you are looking to get a smart home thermostat in Lodi, CA, then make sure to contact the experts at Hawk Heating & Air Conditioning. Our team will gladly provide you with a smart wifi thermostat to precisely control your home's temperature. We can be right there to install it and show you how to properly operate it so you can have the best home comfort experience.

You'll be able to control your heating and cooling from your smartphone and other compatible devices no matter where you are. So if you are out and prefer a specific temp to come home to, you can set it up right then and there. If this sounds like something you'd like to add to your home, contact us immediately.
Your Smart home Thermostat Professionals in Lodi
A smart wifi thermostat works differently from a manual one by allowing you to operate it manually as well as through your smartphone and other devices. This way, you can see and control your temp wherever you are and program temps to run at specific times. This means you can avoid having to micromanage it as you'll be able to set up a schedule and the thermostat will take care of the rest. You'll be able to sit back and relax as well as save on energy.
If your manual thermostat isn't working right, or you just want to upgrade, then here are some of the benefits you'll gain:

Your desired temps will switch over on its own
You don't have to wake up early to micromanage the temp

Precise scheduling of preferred temp saves you money
It can learn your home temperature routine
Expert Smart Wifi Thermostat Team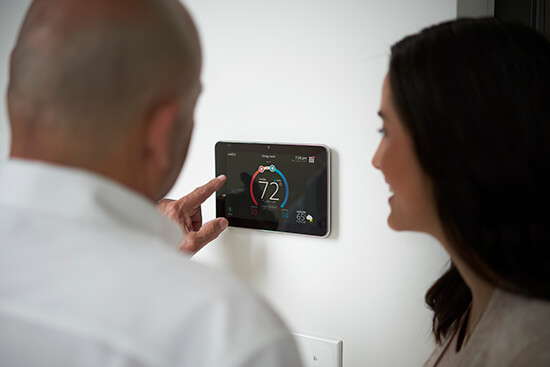 Hawk Heating & Air Conditioning is ready to help Lodi residents with their home comfort issues. We are always prepared with the tools and experience to get the job done correctly. We'll be able to get it set up in no time and help you learn all the features so you can operate your home heating and cooling without any issues. Our goal is to provide you with the best home comfort assistance so you can have peace of mind. You can count on us to help you out at any time.

If you are a Lodi resident looking to get a smart home thermostat, contact Hawk Heating & Air Conditioning today. Our smart WiFi thermostats are also offered in
Elk Grove
,
Galt
,
Herald
,
Sacramento
, and the surrounding communities.