If you have been looking to get a smart thermostat in Herald, CA, then you should contact the team at Hawk Heating & Air Conditioning today. We have plenty of experience in providing our customers with a wifi thermostat and ensuring they understand how to run it properly. With this new thermostat, you'll be able to control your heating and cooling from your smartphone as well as other compatible smart devices.

This means you can even warm or cool your home while you're on errands and set it to the temperature you prefer before you get home. So if you are interested in adding a cutting-edge thermostat to your home, then make sure to contact us ASAP. We are the home comfort team you can always trust.
Local Smart Thermostat Experts in Herald
The biggest advantage you'll gain for your heating and cooling with a smart thermostat is the programable schedule you can control from anywhere. What this means is you can set your thermostat to run at a specific temp for a certain amount of time and create a heating and cooling schedule that works for you. This means you won't have to worry about home temp micromanaging anymore as the thermostat will take care of it and allow you to focus on other things. This also means you'll be able to save on your energy costs.
If your manual thermostat has reached its end, and it's time to upgrade to something new, then look below for some of the advantages you will gain:

It automatically switches to your desired temp
No need to micromanage the temp

The automatic scheduling of your preferred temp saves on energy
It learns your home temperature routine
We Got Your Wifi Thermostat Covered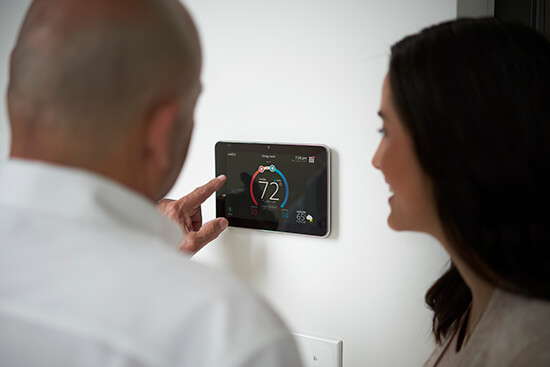 Hawk Heating & Air Conditioning is proud to help Herald residents with all their home comfort issues. We always strive to do the best job possible and get you a wifi thermostat that will meet all your needs. We'll set it up and ensure no issues pop up before we leave. With our help, you'll get a thorough rundown of the features so you can take control of your home temp. We strive to be the home comfort team you can count on for any problems you have now and in the future.
If you are a Herald resident looking to purchase a smart thermostat, make sure to contact Hawk Heating & Air Conditioning today.