If you are interested in getting a smart wifi thermostat in Sacramento, CA, make sure to contact the experts at Hawk Heating & Air Conditioning. We can provide you with a new wifi thermostat installation so you can control your home temp like never before. After we install it, will show you how to operate it properly so you can have the heating and cooling you want.

You will be able to control your thermostat from your smartphone as well as other compatible devices no matter where you are. So if you prefer to have your home at a specific temp right before you get home, you can change it. Our home comfort team is ready to get your new thermostat up and running, so contact us today.
Smart Wifi Thermostat Professionals in Sacramento
Getting a smart thermostat will allow you numerous advantages over a manual one. As well as being able to control it from your phone, you'll also be able to program a precise cooling and heating schedule. This means you can set a specific temp at a specific time and your thermostat will automatically change over to it. You won't have to worry about micromanaging the thermostat ever again. Plus, its efficient scheduling won't ever run longer than you intended, meaning you'll save on energy costs.
If your manual thermostat has gone kaput, and you're looking to upgrade, then here are a few advantages you can gain:

It automatically switches to your desired temp
No need to micromanage the temp

The automatic scheduling of your preferred temp saves on energy
It learns your home temperature routine
Local Wifi Thermostat Installation Team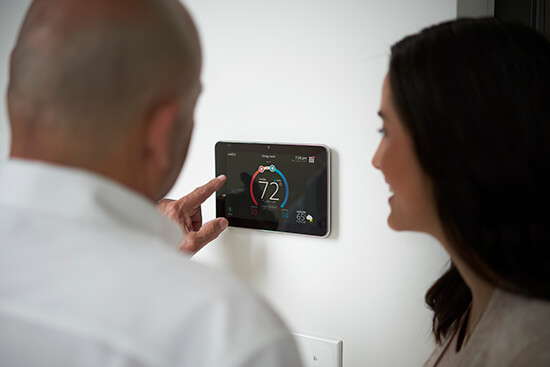 Hawk Heating & Air Conditioning is here to assist the residents of Sacramento with all their home comfort needs. We will be there to get your wifi thermostat installation set up and answer any questions you have. We'll also go over how to operate the thermostat so you aren't confused later on. Our home comfort assistance is always timely and efficient and we'll make sure no issues pop up before we leave. Our goal is always to go the extra mile so you can have home comfort that's affordable and reliable.

If you are a Sacramento resident interested in getting a smart wifi thermostat, contact Hawk Heating & Air Conditioning today. Look for our smart thermostats, also, in
Elk Grove
,
Galt
,
Herald
,
Lodi
, and the surrounding areas.