We're the place to go when you need thermostats in Wilton, CA. Our expert staff knows everything there is to know about the latest in thermostat technology. They can answer all of your questions and provide recommendations for both conventional and smart thermostat options. If your thermostat is over 10 years old or isn't working as you think it should, a call to Hawk Heating & Air Conditioning will put you on the road to a new one. Our HVAC technicians can diagnose all kinds of thermostat problems and repair or replace yours as necessary.

Quality Thermostats in Wilton
The thermostat that controls your home's HVAC system is one of its most critical components. It's how your HVAC system knows when to turn on and off as well as how long it needs to run to maintain your indoor temperature. So, when your thermostat shows signs of failure or stops working altogether, it's a big deal. Hawk Heating & Air Conditioning specializes in thermostats, offering both repair and replacement services for them.
Our HVAC technicians have the tools and experience to check your thermostat for malfunctions. There's no thermostat problem they haven't seen and solved before. Whether your thermostat needs a simple recalibration and cleaning or you'd like to install a Wi-Fi thermostat to upgrade your HVAC system, we're the firm to turn to.
There are several symptoms that indicate a problem with a house's thermostat.

HVAC unit not turning on or off
System failing to respond to temperature changes

Blank thermostat display
Unusual changes in energy costs
Even if your existing thermostat isn't malfunctioning, it still may be worth exploring an upgrade to a smart thermostat. They can improve your home's indoor comfort by learning how you use your HVAC system and adapting to your patterns. That can help deliver the indoor comfort you expect while improving energy efficiency. It's a bit like upgrading your entire HVAC system to a newer model without the major expense.
The Smart Thermostat Experts
Here at Hawk Heating & Air Conditioning, we offer high-quality thermostats and thermostat repair services throughout Wilton. So when your thermostat stops working or reaches the end of its useful life, we can help. We're a family-owned and -operated HVAC company with 19 years of experience working with every combination of HVAC systems and thermostat models.
We're experts in the latest Wi-Fi thermostat models, and we keep abreast of the latest smart thermostat technology, too. And we offer an ironclad 100% satisfaction guarantee on all the work we perform.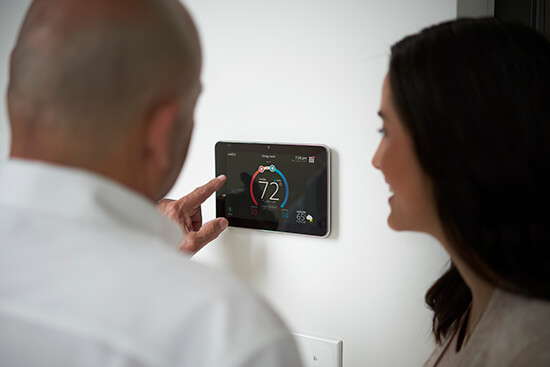 When it comes to thermostats in Wilton, don't waste your time with anyone else; call Hawk Heating & Air Conditioning today!