June 6, 2023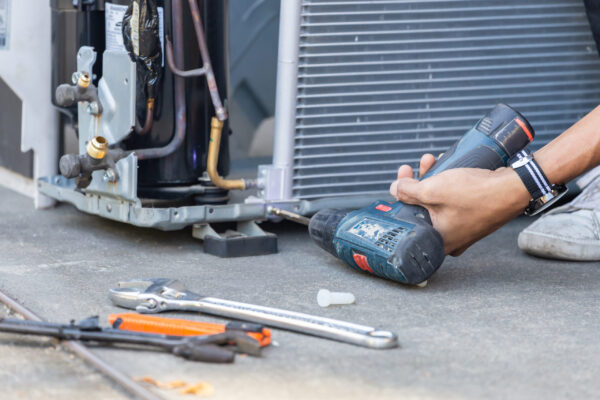 Homeowners often encounter a dilemma when confronted with a malfunctioning or outdated air conditioning system—whether to invest in repairing the existing unit or consider a replacement. This decision can be challenging, as it requires weighing each option's cost, efficiency, and long-term benefits. Read on as we explore the key considerations to help you decide whether to continue repairing your air conditioner or if it is a better option to get a new system.
Age of the AC Unit
The age of your AC unit is essential in determining whether to repair or replace it. On average, an AC system lasts 15 to 20 years. If your unit is approaching or exceeding this age range, costly repairs may not be worth it. If your cooling system is becoming unreliable, investing in a new air conditioner is generally more cost-effective than continuing to pay rising repair costs.
Expensive repairs
Eventually, if you find yourself paying to repair the same system repeatedly, it may be time to evaluate your options. Significant repairs such as compressor replacement or refrigerant leaks can be costly. Experts advise that if an upcoming repair is going to cost half of what you would spend on a new system, it is time to contact a HVAC professional to replace your system with a new and more reliable one.
Energy Efficiency
Older AC units tend to be less energy-efficient compared to newer models. If your current unit is several years old, it is likely less efficient and may consume more energy to cool your home. Replacing it with a newer, energy-efficient model can lead to substantial energy savings in the long run. Look for units with high Seasonal Energy Efficiency Ratio (SEER) ratings, as they indicate better efficiency.
Get in Touch With Professionals Today!
Are you searching for unparalleled cooling, heating, and indoor air quality solutions in Galt, CA? Your quest ends here with Hawk Heating & Air Conditioning. Our technicians are experts dedicated to maintaining your home or business' year-round comfort. Additionally, you can enjoy the benefits of our maintenance membership, ensuring regular upkeep and providing peace of mind. Contact Hawk Heating & Air Conditioning today to learn more about our services.