Experienced AC Repair in Herald

At Hawk Heating & Air Conditioning, we provide top-notch AC repair in Herald, CA. We have built our name by delivering consistent solutions in Sacramento County. Our team of skilled technicians can service any air conditioner no matter the make or model. We also provide 24/7 emergency repair services. Our company will come to your aid in your time of need. We will never leave you feeling stuck and helpless.
Additionally, we are determined to provide excellent customer service. Each member of our staff exudes integrity and respect. We are ready to make you feel appreciated and respected. Bringing you total peace of mind is our topmost priority. For quality and dependable AC service in the Herald area, make sure to choose our company at Hawk Heating & Air Conditioning. We will do everything we can to please you!
Reasons to work with us:

Focused on customer satisfaction
Long-serving business
Excellent customer service

Qualified and trained technicians
Convenient service hours
Herald's Urgent AC Service
We all know that a sudden AC malfunction can leave you stranded during the summer. When this happens, you'll need fast and responsive technicians who can deliver a swift turnaround. Fortunately, we specialize in dealing with such scenarios.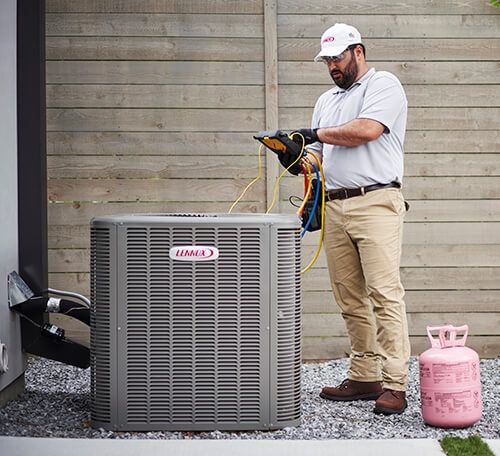 At Hawk Heating & Air Conditioning, we offer speedy AC repair services in the Herald region. Our technicians always arrive early and come prepared. We are confident that we can handle all types of AC malfunctions, such as frozen condenser coils and broken compressor fans. Watch out for any signs that your air conditioner needs repairs and act quickly.
Signs your AC is failing:

Blowing hot air
Short cooling cycles
High humidity levels
Strange smells
Difficulty starting
Unpleasant noises
Additionally, we vow to handle your AC equipment carefully on every single visit. We will adhere to all safety precautions and regulations. Our team will never compromise your safety and well-being.
Committed AC Service
If you want professional AC repair in Herald, choose our crew at Hawk Heating & Air Conditioning. We take your indoor comfort very seriously. Our technicians are renowned for being punctual, polite, and prepared. We also offer a 100% customer satisfaction guarantee. Our entire team is confident that we can meet your comfort expectations. We will leave your machine operating optimally and durably. Let us fix your AC malfunction!

You no longer have to feel stranded when your AC fails. We will resolve your issue on your schedule. Call us today!

Are you looking for something else other than AC repairs? Our company also provides AC installations, maintenance, and even heating repairs!